Here's an article on how best to service the lubricants used on your Off Grid Trailer.
Grease Type
We are currently using Propel Calcium Sulphonate grease for the Timbren suspension pivots, wheel bearings, and CU Off Road pivots. It features the following qualities:
High performance, extreme pressure grease with resistance to corrosive saltwater environments
Crafted using calcium sulfonate thickeners that provide outstanding film strength to protect moving surfaces
Ideal for automotive use as well as extreme pressure applications in construction, mining, agricultural, logging, hauling, and other industries where a shear-stable, high load carrying, corrosion resistant grease is required
Highly water resistant
Usable in temperatures from -29°C to 260°C (-20°F to 500°F)
Protection from rust and corrosion
Does not drip out under running conditions
Suitable for high speed bearings and centralized lubrication systems
Be sure to follow OEM grease grade and compatibility on all recommendations
Principal Uses Properties – Multi-service includes rolling contact bearings, plain bearings, and others
Water Resistance Properties – Functional effect ranges (i.e. good to excellent) may cover multiple greases as listed
Suitable for Use: Hydrated Calcium, Calcium Complex, Calcium Sulfonate Complex, Lithium, Lithium Complex, and Polyurea
Requires Testing: Anhydrous Calcium
Incompatible: Aluminium Complex and Clay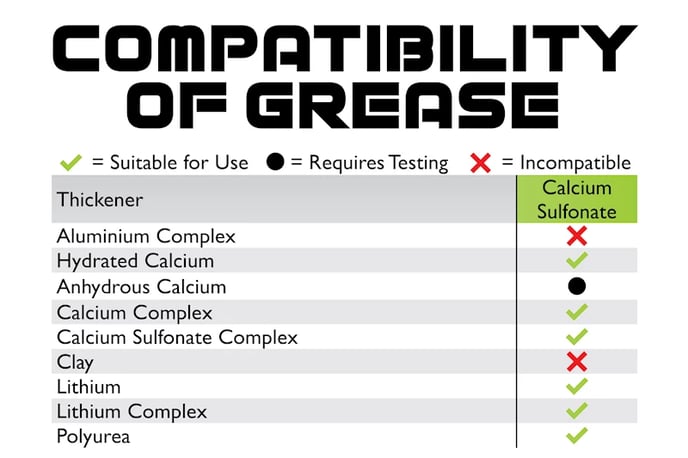 The grease above is the only lube applied at the factory during assembly.
Pre-applied lubricants

Some parts we buy from our 3rd party vendors come pre-lubricated. The XO jacks have a wax protectant on them - if you wish to replenish this, corrosion inhibiting cavity wax works well.

Lubrication of doors, latches, and hinges
For these items, dry PTFE (Teflon,) or dry graphite lubricant is preferred as it will not attract dust or gum up the internal parts of the door latches or locking mechanisms. If required, the mechanism can be cleaned or loosened with WD-40 or a similar penetrating lubricant, but it is then a good idea to blow the area dry and clean with compressed air/wipe everything down and to go back with these dry lubes.
Suspension and wheel bearings
The Timbren suspension is lubricated via a zerk underneath the main pivot point that attaches the control arm to the suspension hanger. Every 12,000 miles or 12 months, fill the suspension pivot housing with grease until fresh grease comes out either side of the control arm.
At the same interval, lubricate the Timbren wheel bearings via the zerk located underneath the center cap - install grease until it uniformly comes out of the bearings.
The Fabtech Suspension pivot bushings are maintenance free. Only the wheel bearings require inspection and repacking every 12,000 miles or 12 months. Refer to your owner's manual PDF. There is no grease zerk in this system - the castle nut must be removed and the brake hub taken off so that the inner and outer bearings can be removed, cleaned, inspected, repacked, and replaced. If you have any concerns about performing this service yourself, please consult with the OGT technical services department at warranty@offgridtrailers.com, or seek out a good local trailer or automotive service shop.